Shortly after 5 p.m. on a recent Saturday in April, the Chem 1179 lecture hall at the University of California, Santa Barbara, erupts in the kind of screaming you usually only hear when the headliner finally walks onstage at a concert. Coming down the right aisle of the auditorium is a man whose hair is highlighted with blonde streaks, in leopard-print shorts and a military-style jacket with red epaulettes, sunglasses still on (indoors), and diamond studs gleaming in his ears. The woman behind me turns the color of an anguished beet and screams his name: "Milo!!!"
Right-wing troll Milo Yiannopoulos has arrived as the surprise guest during the second day of this year's California College Republicans Convention, where college Republicans from around the state are meeting for a weekend of speeches and drinking. The convention will conclude in a vote on the third day for a handful of leadership positions, including communications director, secretary, and the big one: chairperson. Today is mostly dedicated to students and guest speakers lecturing on "foes" in the liberal media (turns out it's me!), the future of the GOP, and how to convince other millennials and Gen Z kids to become Republicans.
The mechanics of campus politics are rarely interesting. The stakes are low, the rules are complicated and tedious, and the impact of their elections is rarely explicitly seen or felt. But here the mood is more like a three-day prom, where it's abundantly clear who's popular, who's not, and who's going to be prom king or queen. And Yiannopoulos might have just nabbed that ultimate honor without even running for it.
Yiannopoulos begins greeting his audience, currently losing their fucking minds over him. The woman who screamed his name clasps her hands over her mouth and looks like she's in physical pain, so much so that I have to ask if she's happy or (as I naively imagined) upset. In response, she screams, "I'm happy, I'm happy! What the fuck! Oh my god, I don't have my glasses on!"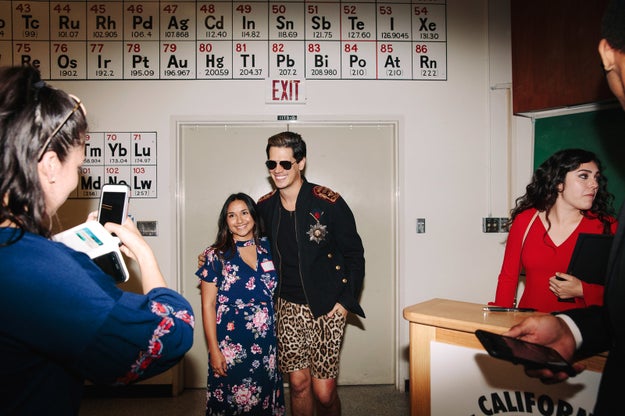 Milo Yiannopoulos poses for photos with students at the California College Republicans Convention at the University of California, Santa Barbara, on April 7, 2018.
Kendrick Brinson for BuzzFeed News
You might be someone who thinks of Yiannopoulos, who was booed out of a bar in New York this week, as a defeated figure of the far-right. But here, he walks among the students like a high school quarterback who's returned for homecoming, still the hero. Young women are literally weeping at the sight of him, boys are begging him for hugs and calling him "gorgeous." One woman just wants to talk about free speech, telling him, "You should be able to say anything you want. You can't say we're for freedom of speech if you're going to critique people for what they say." Another takes a photo with him and screams, "I can't wait to tell my parents I took a picture with a famous gay person!" A brown man with family in India praises Yiannopoulos for being "the only one" talking about "Islamist violence," which isn't the most uncomfortable thing to happen all weekend, but it's certainly up there.
For most of the crowd, being in proximity to Yiannopoulos is the coolest fucking thing to ever happen. They love his type of politics: loud, ugly, self-serving, attention-grabbing, an approach in which a fierce attitude trumps any sort of discernible political policy. But for a small minority of college Republicans gathered here, this is their worst-case scenario.
For most of the crowd, being in proximity to Milo Yiannopoulos is the coolest fucking thing to ever happen.
"When you have people that are actively spewing hate speech, which he has the right to say, I just don't think we should be the ones hosting it," says Michael Gofman, a 20-year-old UC Davis student who is running for chair of the College Republicans this year. Gofman strikes me as the most polite man in the world, so this seems like the strongest language he could possibly muster. "I think he's terrible. I think he's bad for our party."
For Gofman, Yiannopoulos is emblematic of the larger division within the California College Republicans, an "us versus them" problem: us, the reasonable Republicans who want to talk about the issues, versus them, the bombastic, loud, flashy winners. Yiannopoulos is a celebrity, and within the Republican Party of 2018, celebrity wins. Tomorrow, there's an election to be held for the control of the party. A lot of the people attending think he doesn't have much of a chance, but he's still hopeful: "It's too early to tell. It's going to be too close to call."
If the CCR Convention is prom, then Ariana Rowlands, a 21-year-old University of California, Irvine, student, is the queen. Rowlands, the biracial daughter of two immigrants, is immediately recognizable in any crowd at the convention — you just need to look for a thick wave of curly black hair amongst the largely white, largely male crowd. She is the incumbent chairperson of CCR, a close friend of Yiannopoulos, and the reason he's made a surprise appearance; she's also brought him to UC Irvine.
This term's CCR convention is striking a similar tone to the last one, held in October 2017, where Rowlands won against incumbent Leesa Danzek. If you ask a Rowlands supporter about that election, they'd likely tell you Danzek was a rule-following, establishment cog. If you ask a Rowlands detractor, they'd likely tell you that Rowlands is an agent of chaos who's more interested in disrupting the status quo than enacting any real policies. Rowlands' victory was, depending on who you asked, either an upset or upsetting. (Danzek herself did not responded to multiple requests for comment.)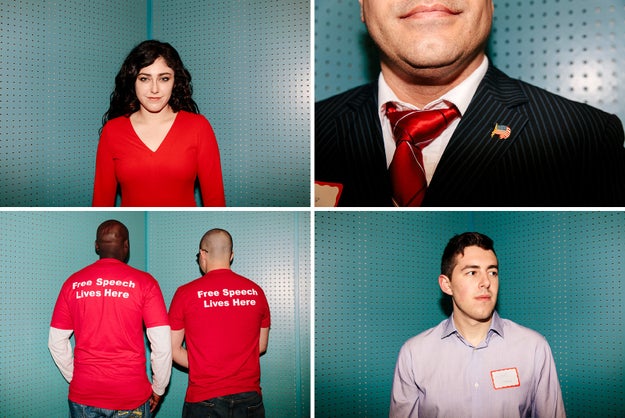 Clockwise from top left: Ariana Rowlands, California College Republicans chair; Efrain Becerra, 32, of the College of the Sequoias and the Central Valley; Michael Gofman, of UC Davis; California State Fullerton students Jason Bonney (left), and Michael Emparan.
Kendrick Brinson for BuzzFeed News
Since her initial win, Rowlands hasn't spent much time on time-honored college Republican activities like student recruitment or door-knocking for state candidates ahead of the June 5 California primaries, in races which may prove incredibly important for Republicans trying to keep control of the real House of Representatives; that's the kind of work that doesn't get national media attention. (Rowlands says this is merely because thus far in her term, it's been too early to focus on something like campaigning for the primaries.) Instead, her pet projects are issues like free speech, fighting a left-leaning media, and building a border wall. Rowlands is more focused on a Trump- (and Yiannopoulos-) inspired brand of political activism, one that spreads conservative ideas by generating agitprop, rather than worrying too much about policies or convincing moderates to vote Republican.
"These [students] are really told that they're wrong, they're bad people, they're stupid, they're racist for holding normal conservative beliefs," Rowlands tells me on the first day of the convention. "They're tired of it, they're sick of it. This is us standing up and saying we've had enough."
She posts photos of herself on Instagram holding guns, wearing MAGA apparel, and posing with Ann Coulter. (Caption: "Haters gonna hate. 🤗") She's been a guest on Fox News to talk about the War on Christmas on campuses and has written for Breitbart News. Just under a month before the convention, she posted a photo on Instagram at the border wall with Yiannopoulos. Rowlands has managed to frame the idea of being a far-right conservative as a kind of counterculture, trading on the appeal of flouting what's typically expected of Californian college students by siding with the oldest, whitest, most establishment group you can think of.
CCR, and the way Rowlands guides it, matters to the Republican party on a state level. "Whenever anyone needs any sort of campaign help or volunteers or potential job applicants, we're the first people that [the Republicans] come to," Rowlands says. CCR members go door-knocking, canvas potential voters, and collect survey data about which side voters are leaning toward before an election. And this kind of campaigning is especially important for GOP candidates right now, as midterms across the country are turning out to be a battle even in the most entrenched Republican states. "They help make calls, they do a lot of the ground organization, they walk precincts, they do all the hard work," says Matt Fleming, communications director for the California Republican Party. "To say what they do is 'important' almost diminishes what they do. We need them."
Republicans in California, meanwhile, are trying to change the idea that their state is a foregone Democrat conclusion, even going so far as to propose splitting up the state. Trump himself recently tweeted that "there is a Revolution going on in California." But the worry among some Republicans, namely the more moderate ones, is that the midterms will act as a repudiation of Trump and consequently all Republicans, making the California Democratic supermajority even harder to beat.
The conflict between the students here at CCR is a microcosm of a much larger one happening in the Republican Party itself.
To Rowlands' opponent Michael Gofman, the way to shore up the GOP against a blue wave is not through protesting or posing with controversial conservative celebrities on Instagram. "We just want to come here and talk about the things we believe in and our vision for the California College Republicans, one that's a lot more issue-based, and talking about policy," he tells me. "What we can do to get people elected, and less being campus activists."
Gofman is running on a slate called "Unite CCR" (Rowlands' is "Rise CCR"; each slate has a number of candidates for different positions) and is a moderate in every sense: calm, gentle, and completely unassuming, were it not for his considerable height. If Rowlands is a bombastic, charismatic, galvanizing leader, Gofman is a consummate professional, the (young) adult in the room who never raises his voice, and thinks everyone could work together if they all just calmed down, followed the rules, and conducted things the way politicians used to, in the polite old days. Essentially, boring, deeply unsexy politics — exactly the kind of approach that doesn't seem to work anymore in the post-Trump era.
The conflict bubbling within the California College Republicans between people like Rowlands and Gofman, and their respective slates, is similar to one we're seeing nationally: Do Republican politicians need to be bold, unapologetic, and often wildly offensive, to be effective? Or should they return to the decorum and professional tenor formerly expected in politics? Should the right use the activism tactics more often employed by the left — which might mean more events like the Unite the Right rally in Charlottesville (which ended in violence and one death) or the "free speech" rally held in Boston last year — to further their agenda, or should they focus on policy and campaigning? The conflict between the students here at CCR is a microcosm of a much larger one happening in the Republican Party itself.
After the speeches in the lecture hall are over, there's a catered dinner set up outside under a tent with twinkle lights, where Yiannopoulos will be giving his surprise comments. While Rowlands sits at a table near the front with Yiannopoulos, Gofman idles near the side of the tent. He claps politely after the speech. He doesn't want a photo.
While Rowlands is squarely in the now, doing what she can to make a splash — the Rise CCR Facebook page boasts that this year they "garnered more activity and press coverage than ever before" — Gofman is, at least in his view, trying to play a long game. "My goal is a Republican Party that's inclusive and a big tent that houses all sorts of different people. When you're talking about lesbians aren't real or that all Muslims are terrorists, it's not going to help make our party bigger," he says. "If we start focusing on gender and race, all of those regressive things that we're accusing the Democrats of using, then we really have no high ground." The election, then, is a battle between decency in one corner and bombast in the other.
He's definitely going to lose.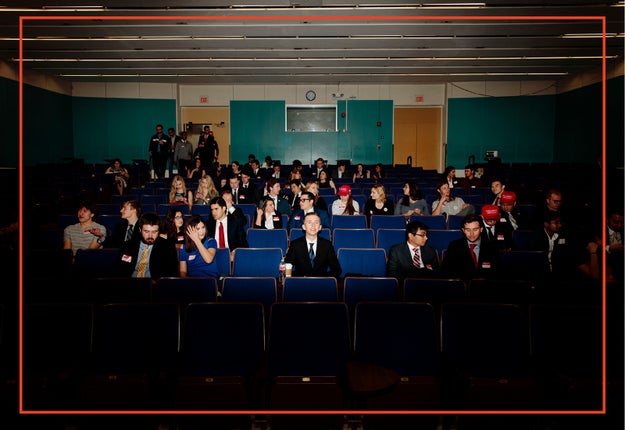 College students from 70 schools gathered for the California College Republicans Convention in Santa Barbara, California.
Kendrick Brinson for BuzzFeed News
The afternoon before, the spring CCR convention kicked off with a casual welcome party at Goleta Beach Park, on the other end of campus, where 30 or so early attendees met up to drink Heineken in chilly weather. Rowlands was there in a one-piece Make America Great Again bathing suit, a California College Republicans flag draped over her shoulders (recently redesigned using the antifa colors), and white and gold Ivanka Trump–brand sneakers. Otherwise, it just looked like a bunch of college students on the beach, standing around drinking in their alma mater sweatshirts and listening to Drake. (Later in the weekend, they will combine their MAGA hats with suits and ties, alongside at least one Supreme/Louis Vuitton hoodie.) So, your average campus gathering, aside from the fact that everyone was talking about the scourge of socialism.
Rowlands often frames herself as an underdog, which is strange, because she's the incumbent candidate with the loudest support of anyone here. "Sometimes she can be a little harsh with people," said Dominick DiCesare, a 21-year-old UCSB student, a delegate, and a Rowlands supporter despite their minor disagreements. DiCesare, and most of the people hanging out at the park, felt like Rowlands represents a bigger, better, bolder direction all Republicans need to go in if they want the party to survive.
"Knocking on doors isn't going to work. Activism works," DiCesare said. "The left is going around and they have this high activism where they go march in protests and they make events and they videotape things. Why can't we do the same?" The CCR gathering was briefly interrupted by a small crowd of men cheering on a guy who's trying to chug a beer. (It takes a very long time.)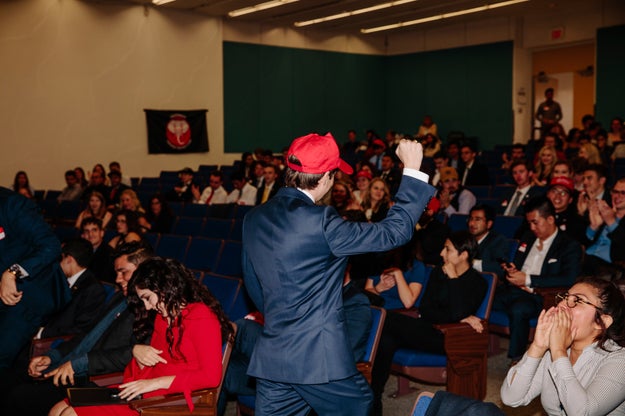 Eric Lendrum, 23, a University of California, Santa Barbara, graduate, pumps his fist as the crowd cheers for him after giving a speech.
Kendrick Brinson for BuzzFeed News
Read More