Terese Marie Mailhot, whose new memoir, Heart Berries, came out this month, hates "poet voice." If you've ever been to a poetry reading, or attended a creative writing class, or even just listened to Garrison Keillor's The Writer's Almanac on the radio, you know what she's talking about. Poet voice is sincere yet disaffected, a droning melody of self-importance. It is the standard, emulated by thousands of poets, essayists, and fiction writers, popularized and codified by creative writing programs across the nation. And like so many of those programs, it is extremely white. In this way, it's a tidy metaphor for the way whiteness — and expectations for what writing should sound like — still dominates the writing world.

Mailhot dislikes most of the implicit and explicit expectations of what she calls "the white MFA." She was chafed when a male creative writing professor requested she "stay away from conversations about feminist theory" in her work. She resented being told to "slow down," especially in her writing about trauma, in order to offer the "tourist experience" to readers through curation of pain.
She doesn't have to deal with any of that at the Institute of American Indian Arts, or IAIA — which offers the first indigenous-centered MFA program in the US. IAIA, whose campus is perched on the sagebrushed hills outside of Santa Fe, New Mexico, was established in 1962. But the MFA program, touting Sherman Alexie among its first faculty members, was only launched in 2012 — conceived, as Mailhot puts it, with "a renaissance in mind."
The first so-called Native American Renaissance dates to the 1970s and '80s, when authors James Welch, Joy Harjo, Leslie Marmon Silko, and Louise Erdrich first became nationally recognized. But the phrase, even then, was contentious: With its connotation of a "rebirth," the word "renaissance" suggests there had been a lack of indigenous storytelling — which was never the case. The narratives just weren't necessarily in English, or intended for mainstream consumption, or made to hew to the (white) expectations of what constitutes "literature."
What Alexie and others at IAIA have constructed, then, is a program centered on Natives, taught largely (but not exclusively) by Natives, with the intent of educating, mentoring, and launching a new wave of Native literature into the world.
"Teaching here is our dream job, because this is our dream program."
Five years later, that wave is just beginning to crest. Heart Berries has earned a spot on a dozen "most anticipated books of 2018" lists. Roxane Gay says it's "astonishing" and "exquisite"; the New York Times called it "a sledgehammer." In June, Tommy Orange — who, like Mailhot, graduated from IAIA's writing program and now teaches there — will publish his novel There There, which interweaves the experiences of 12 people who gather in Oakland for a powwow; the book was the object of a multi-day bidding war.
"It was the race of our lives to get our books done," Mailhot explained. "Not just to publish them, although that was part of it. We wanted to write books so that we could come back and teach at IAIA. Teaching here is our dream job, because this is our dream program."
"One of the reasons I wrote a polyphonic novel is that I come from a voiceless community," Orange told me. "And in a similar way, with IAIA, I want to usher in as many new voices as possible. We're just trying to get to the baseline of humanity, and not be a textbook image that's remembered and spoken of in the past tense. That's where our urgency comes from."
For Mailhot, Orange, and so many writers I spoke to at IAIA, it's not just about the book deals. It's about what they call Native Excellence — and creating a path to it with its own expectations and standards, instead of relying on those established by white academia or publishing.
"I think it's a type of arrival, when you get to make those decisions for yourself," Mailhot said. "It's very different for indigenous people, and black people, and people of color, because we are so often told to doubt ourselves, and our aesthetics, and what we do, simply because some of us are not traditionally taught how to write. And even if we are, we are looked at as if we don't know how — that we're not authorities of our own work. And I just don't buy it anymore."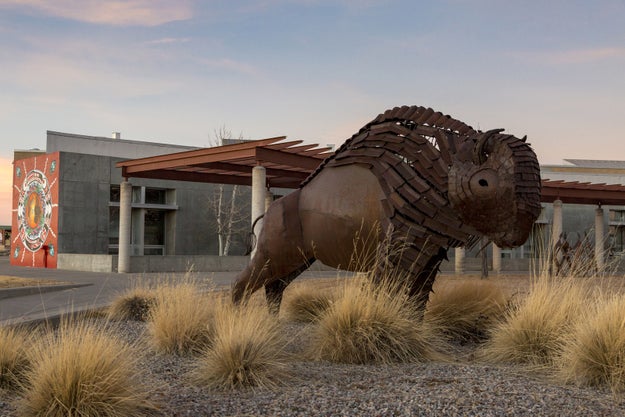 The Institute of American Indian Arts campus
Mark Woodward for BuzzFeed News
The MFA program at IAIA is low residency (or "low rez," as IAIA spells it, a play on the shorthand for "reservation"), which means everyone shows up for a very intense eight days twice a year, then spends the time in between writing, conferencing, reading, and writing some more. It also means students don't have to quit their lives — their families, their jobs — in order to attend, which made it feasible for someone like Mailhot, who has three children. The program averages 30 students in each incoming class, with around two dozen listed faculty. That faculty, some of whom teach every seminar and some of whom rotate in, includes Sherwin Bitsui, Santee Frazier, Joan Naviyuk Kane, Ismet Prcic, Pam Houston, and Lidia Yuknavitch. Currently, around two-thirds of the faculty identify as indigenous, a percentage that will only continue to increase as IAIA MFA students like Mailhot and Orange graduate, publish, and return.

Mailhot grew up on Seabird Island Reservation in British Columbia, the child of a radical activist mother, and with two older brothers and a sister. Her school attendance was inconsistent as a young girl, but her mom started feeding her books at a young age: By Grade 3, she was reading The Grapes of Wrath and Edgar Allan Poe. When a classroom teacher assigned Mark Twain, her mom objected: "I don't need my daughter to read the n-word that many times in her life right now. Maybe you could give her some Frederick Douglass?"
She dropped out of school at 13, went into foster care at 16. She enrolled in adult education classes, which amounted to a workbook designed to be trudged through in such a way that you never actually reach the end. "They don't ask you to write, of course," she explained. "So you never really know what you're made of."
As for what happened between foster care and arriving at IAIA, you can find that in Heart Berries. "I wrote all this down so I wouldn't have to say it," she told me. And it's all there, some of it oblique, most of it not.
"My story was maltreated," she writes in the book. "I was a teenager when I got married. I wanted a safe home. Despair isn't a conduit for love. We ruined each other, and then my mother died. I had to leave the reservation. I had to get my GED. I left my home because welfare was making me choose between my baby's formula or oatmeal for myself. I chose neither, and used one check for a ticket away. That's when I started to illustrate my story and exactly when it became a means of survival. The ugly truth is that I lost my son Isadore in court. The Hague Convention. The ugly of that truth is that I gave birth to my second son as I was losing my first. My court date and my delivery aligned. In the hospital, they told me that my first son would go with his father."
She continues: "It's too ugly — to speak this story. It sounds like a beggar. How could misfortune follow me so well, and why did I choose it every time?" Heart Berries is a short stomach punch of a book — you can read it in one long sitting. She told me, "I wanted a small, contained thing that hurt me to read."
"In a traditional program, they don't like sentimentality," she said. "But I'm like a raw nerve. A lot of women interact with the world emotionally — not reductively, but thinking about humans and empathy and the human condition. That's having a big heart, you know? People will tell you to pull back on that, that you don't want melodrama. But it's like, well, there's a lot of dramatic things that have happened in my life."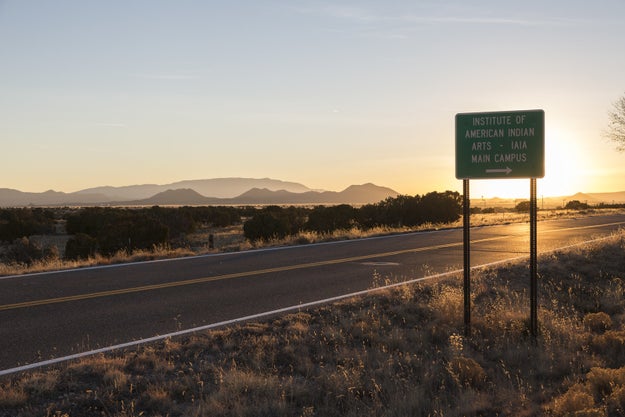 A road sign in Santa Fe points to IAIA.
Mark Woodward for BuzzFeed News
At IAIA, the goal is success, in all its various and subjective interpretations — but it's also about claiming visibility. Many people in the US have never met a Native American; they don't see or interact with Natives in their everyday lives. Natives aren't characters in the books and films and music and art they consume. If they are, they tend to exist in the past tense, or as tropes that mostly function as counterpoints to whiteness. That's why Orange very consciously set his book in the present. "Usually we're just one-dimensional and historical," he told me. "We need people to know we are present-tense people."
When Orange was growing up in Oakland, his mother, who is white, worked for the Office of Indian Education; his father, who is Cheyenne Arapaho, was fluent in Cheyenne and would take the kids back to his hometown in Hammon, Oklahoma. "I was biracial and I grew up around a whole lot of biracial kids. Everyone was half, we were all just together," he told me. As a kid, he was largely uninterested in school and reading; later, he went to college for a degree in sound engineering, which involved basically zero exposure to literature.
"We need people to know we are present-tense people."
Orange's face is slightly off-kilter, in the grand, beguiling tradition of wrestlers and football players. That's thanks to roller hockey, which swept the Bay Area in the '90s and early 2000s. A pro team, the Oakland Skates, played in the same coliseum as the Warriors, and mini leagues sprang up all over the city. He started playing out in East Oakland, where he picked up a job at a used bookstore and gradually immersed himself in the classics of literature: the Russians, Borges, "everyone but Americans, because I just wasn't interested."
He didn't read Sherman Alexie or the rest of what he refers to as the "Native canon" until much later. "Sherman was very rez," Orange said, "and I avoided a lot of rez Indian writing, because it made me feel isolated — and like it was the only way to Indian write." The owners of the bookstore connected him with a guy who worked at the Native American Health Center, where he worked on and off over the next eight years.
Orange kept playing roller hockey — a bunch of his teammates were getting offers to go pro in Europe — but had also begun writing in earnest, and made a conscious decision to choose that future instead. In 2009, he read a Craigslist ad for an artists' commune outside of Ashland, Oregon, and found another ad for a ride-share to bring him there. "So my ride-share drops me off and drives away," he recalled, "and there's a 7-foot-tall wooden carved emblem with 'JESUS' emblazoned in fire, right next to the door."
He didn't have a car, but a guy in town — a classic old-school Ashland hippie, selling spiritual stones, aura sprays, new age CDs, "and other ridiculous objects," as Orange puts it — hired him because he was Native. He biked 10 miles each way. He did a lot of writing. In 2013, he was accepted to the MacDowell Colony — a prestigious writers' retreat that promised a more focused writing environment than a Christian lady with a spare bedroom. A woman in one of his storytelling workshops in Oakland asked him if he'd ever been interested in an MFA, which, in its traditional, academic sense, simply did not appeal to him. Then she told him about IAIA. He applied immediately.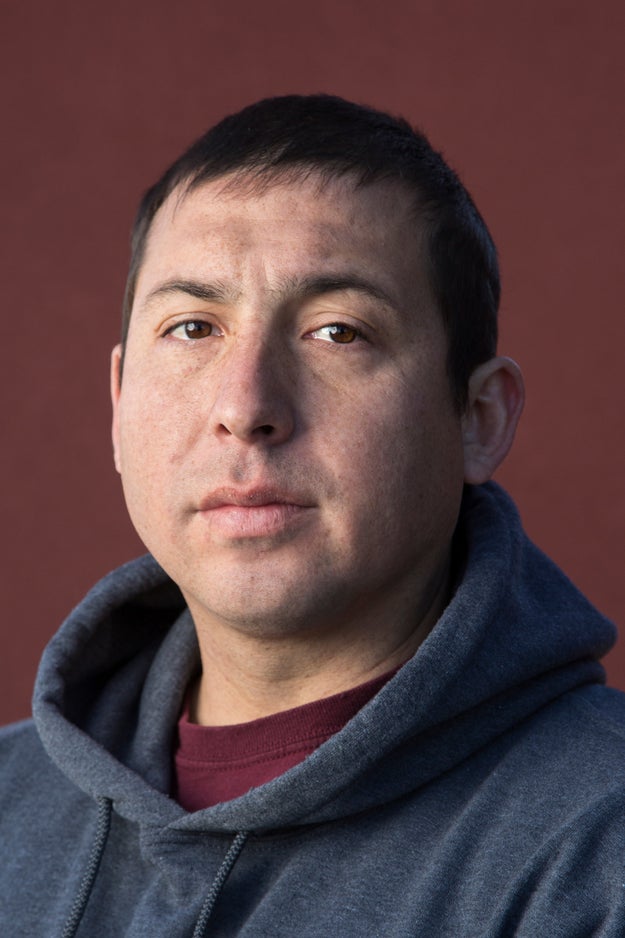 Tommy Orange
Mark Woodward for BuzzFeed News
Even before IAIA, Orange had been working on the manuscript that would become There There for years. Early reviews liken it to Louise Erdrich's Love Medicine: Both rotate, chapter by chapter, through a cast of characters, tethered by identity, place, proximity. In There There, that includes Tony Loneman, a 21-year-old narrating life with what he calls "the Drome," or fetal alcohol syndrome, and Opal Viola Victoria Bear Shield, whose life careens after her mother takes her and her sister to the Native-led Alcatraz Occupation in the early '70s. But what sets the tone, what baits the hook, is the book's very beginning: a sort of urban Native manifesto, a mini history, a prologue so good it leaves the reader feeling woozy, or concussed.
"Our heads are on flags, jersey, and coins," he writes. "Our heads were on the penny first, of course, the Indian cent, and then on the buffalo nickel, both before we could even vote as a people — which, like the truth of what happened in history all over the world, and like all that spilled blood from slaughter, is now out of circulation."
"We did not move to cities to die," he writes. "The sidewalks and streets, the concrete absorbed our heaviness. The glass, metal, rubber, and wires, the speed, the hurtling masses — the city took us in. This was part of the Indian Relocation Act, which was part of the Indian Termination Policy, which was and is exactly what it sounds like. Make them look and act like us. Become us. And so disappear. But it wasn't just like that."
He writes, "They used to call us sidewalk Indians. Called us citified, superficial, inauthentic, cultureless refugees, apples. An apple is red on the outside and white on the inside. But what we are is what our ancestors did."
"That prologue was a prayer from hell," Orange said.
It's also what sold the book. In Orange's IAIA craft talk — a sort of window into a writer's process — he described how he fashions "doors" for himself to make his way back into a draft. Something easy to open, a way to access what you might be scared of revisiting. Sometimes he creates a door by feeding his dialogue into a program on his computer that reads it back to him in robot voices. But the prologue was his most sacred entryway: the section that he'd polished to the point of pride, the thing he could always step through to access the rest of the draft.
"They want to rid themselves of this history. They want to believe there's a fairytale reparations story."
Orange sold There There for the sort of money that changes lives. In person, talking about the book, there's a sense of steadying for the questions he'll have to answer, the explaining he'll have to do, the comments sections he'll have to avoid. He got a taste of it last year, when he wrote an essay about Thanksgiving for the Los Angeles Times.
"There's this unconscious American rage, fueled by secret guilt," he told me. "There's just some sense that 'you guys need to go off and die.'" Or that Natives have been paid back: "People think we get wealthy from money from the government, or from casinos and oil, when less than 2% of us get money from casinos or oil," he told me. "But there's this guilt thing: They want to rid themselves of this history. They want to believe there's a fairytale reparations story."
Orange's work, like Mailhot's, denies the reader even the semblance of a fairytale. Their writing is unrelenting — one of Mailhot's favorite compliments — in that way. But the quality they first recognized in each other was ambition. At IAIA, they found themselves in different circles, different seminars. But then Mailhot heard Orange read his work and knew, immediately, that he was headed for something massive. They began corresponding via email, sharing drafts.
"We're both really competitive, but we don't use the word," Mailhot told me, "because at IAIA, saying you're 'competitive' is playing into white capitalist ideology of what an MFA should be." That is to say cutthroat, and explicitly directed toward personal gain, instead of communal.
Now Mailhot and Orange are inextricably bound. They sold their books within two weeks of each other, and those books will be released just months apart. They are the first graduates to cycle back to IAIA as teachers, the embodied proof of the program's potential. And they spent much of our time at IAIA pointing out the writers whose names I needed to remember next: Chee Brossy, Grace Randolph, b: william bearhart. The pipeline, the renaissance, the wave: Whatever it is, it's happening.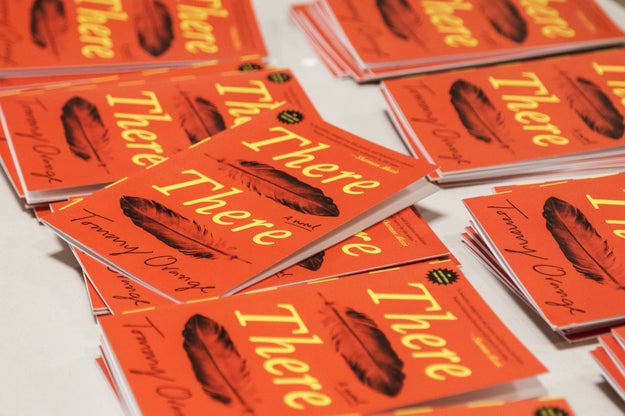 Takeaway copies of the prologue to Tommy Orange's new novel, There There.
Mark Woodward for BuzzFeed News
Read More