As an undergraduate studying medical engineering at Yale, Tehila thought she'd really scored when Erik Shapiro, a young professor and rising star at the Ivy League school, suggested she come work for him.
Already the recipient of awards from the National Institutes of Health, Shapiro's neuroscience research focused on detection and treatment methods for some of the world's most dreaded diseases, from cancer to Parkinson's. When Tehila began working in his lab as an assistant in 2009 during her junior year, the job started out well, she said, but it didn't stay that way.
Professor Erik Shapiro in a Michigan State faculty conversation video, 2015.
Michigan State University / YouTube
Tehila told the university that Shapiro made frequent remarks about everything from girls in bikinis to his desire to see her in tight clothing — comments that she said became cruder with time. As her graduation approached in spring 2010, Shapiro said on more than one occasion that they should have sex once she got her degree, Tehila said. Then in September 2010, she said, he tried to kiss her and two weeks later put his hand up her skirt and fondled her thighs and genital area for about a minute as she tried to push him away and told him to stop.
Tehila said she rebuffed him, quit the lab, and alerted university officials, including the dean of student affairs at the time. Tehila still doesn't know what Yale did with the information, but she knows that Shapiro continues to oversee students and garner praise for his work. Now he's at Michigan State University, which hired Shapiro in 2012, granted him tenure, and gave him a healthy six-figure salary. He's been recognized by the university for his ability to win research grants and has been nominated as supervisor of the year — all while Tehila's harassment accusations have remained buried at Yale.
"Yale should've done a better job condemning this, and he shouldn't have gotten hired by another university, and he should not be working with undergrads."
"I think about it all the time, unfortunately, because it was so poorly handled," said Tehila, who asked to go by her Hebrew name to protect her privacy. "Yale should've done a better job condemning this, and he shouldn't have gotten hired by another university, and he should not be working with undergrads."
Shapiro did not respond to multiple emails, phone calls, and a fax message. David Nacht, an attorney who said he represents Shapiro and has represented students accused of sexual misconduct, told BuzzFeed News he would not "honor your inquiries with comment except for the following: Any suggestion of sexual assault or misconduct by Dr. Shapiro is false and defamatory. Govern yourself accordingly."
Two faculty members on the search committee at Michigan State told BuzzFeed News they never heard about any harassment allegations against Shapiro, and MSU's vetting process didn't require Shapiro to disclose whether he'd been accused of inappropriate behavior. It only required disclosure of a finding that he had committed wrongdoing. Because there's no way of knowing if Yale ever formally investigated him, though, it's impossible to know if it ever issued a finding one way or another regarding Tehila's harassment allegations. All Yale ever told her, in January 2011, is that "appropriate action" had been taken.
Federal law requires universities to take certain steps when dealing with sexual misconduct on campus, and if it's a case involving two students, schools have to disclose the outcome in writing to the accuser and to the accused. But there's no similar requirement that they disclose what happens to faculty who are accused of harassment. Too often, critics say, schools agree to keep such accusations quiet if employees resign and go elsewhere. The system is known as "passing the trash," and in higher education, the "trash" often refers to high-profile professors who bring status and money to universities that either ignore or are unaware of past scandals.
"It's yet another indication that university administrations don't get it," said Rep. Jackie Speier, a California Democrat who is trying to pass legislation that would require colleges and universities to report offending professors to federal agencies that distribute research grants. "Passing the harasser has got to stop," Speier told BuzzFeed News.
"Passing the trash" has been compared to the Catholic Church allowing pedophile priests to be moved from parish to parish rather than face discipline. Recently, private prep schools have also conceded that teachers facing sexual misconduct allegations kept their misdeeds hidden as they transferred to other boarding schools. The Catholic Church and prep school cases often involve molesting children, but critics like Speier see a parallel in the harassment of adults on college campuses.
"If you said to Yale administrators," Speier said, "do you approve or condone the Catholic Church for passing off pedophiles from one church to another from one congregation to another? I think they would probably find that very offensive, [but] how is that any different?"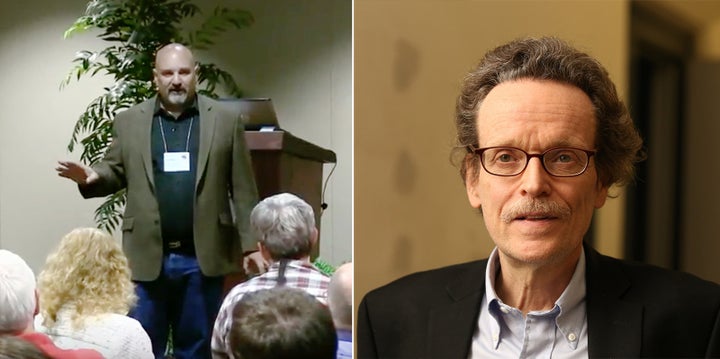 Timothy Slater (left); Thomas Pogge (right).
CAPERTeamTube/YouTube and Wikipedia / Tobias Klenze / CC-BY-SA 4.0 / Via bit.ly and bit.ly
Speier last year used her speaking time on the House floor to tell Congress about the case of Timothy Slater, a University of Wyoming astronomy professor, who'd been hired after being found in violation of the sexual harassment policy when he taught at the University of Arizona. Last year, the University of Kentucky allowed entomology professor James Harwood to resign and agreed to not tell future potential employers that he'd been the subject of sexual harassment investigations. Ethics professor Thomas Pogge was accused of sexual misconduct while teaching at Columbia University in the 1990s but was hired by Yale, where he was subsequently accused of harassing students. In 2015, San Diego State University found that Spanish professor Vincent Martin engaged in sexual harassment toward multiple students. According to SDSU, it was only during its investigation that Martin admitted he'd been accused of inappropriate behavior at his previous campus, the University of Delaware.
According to government statistics, women have made significant gains in earning science degrees over the past two decades but still account for only a third of people working in science and engineering fields. Many in the field believe this gender gap is due in part to a long-standing failure by academia to deal with harassment. A study last year found close to a third of female biomedical researchers have experienced sexual harassment, and half of those said it damaged their confidence as professionals.
Students have accused Yale for years — decades even — of not taking sexual assault and harassment seriously at the New Haven, Connecticut, campus. A federal lawsuit against Yale in 1980 set one of the first court precedents that harassment of students was a violation of Title IX, the federal gender equity law. More recently, in 2012, the US Department of Education ordered Yale to reform how it deals with sexual assault cases following complaints from students. Michigan State is currently dealing with legal action from over 100 women who have accused former university doctor Larry Nassar of sexual abuse, while multiple football players stand accused of assault, and staff are accused of failing to handle cases properly. Federal officials said in 2015 that MSU violated Title IX in how it dealt with sexual assault cases.
On the Michigan State University website, Shapiro, 44, says he moved there from Yale "for its leadership and growth opportunities," and because he "knew this was the place where my research could best be achieved."
By all appearances, according to Shapiro's personnel records obtained by BuzzFeed News, things have gone well for him in Michigan. He was granted tenure in 2015 and has a $170,400 annual salary. Last August, Shapiro won an award from MSU to celebrate his millions in federal grant money. A month later, Shapiro was nominated by his department for the university's 2016 Outstanding Supervisor Award to honor how he "promotes teamwork and treats everyone with dignity and respect."
When Tehila first met Shapiro, she also was won over.
Shapiro and Tehila both started at Yale in 2006. Tehila was only 16, attending college early. While her passion was opera, her parents wanted her to study something more "practical," so she majored in medical engineering and spent a lot of time doing research in a lab directly across from Shapiro's office.
"He was one of the more lively people on the floor," she told BuzzFeed News. "He would walk by and he would always have something to say — he would make a comment on an outfit or crack a joke; it was definitely a break on all the monotony of that lab." Shapiro would sometimes show Tehila what he was working on, and he frequently suggested that she should work for him, she said. Eventually she took him up on the offer, becoming a student employee in his lab in spring 2009, and then arranging to work for him in the Anlyan Center, a Yale medical research facility, after she graduated in 2010.
From the start of their working relationship in 2009, Shapiro praised Tehila's work, she said, but he also dropped inappropriate comments. "I remember he once said, 'You make that shirt look good.' It was something that you wouldn't expect from a professor, but in context of the greater relationship, I kind of just wrote it all off," Tehila told BuzzFeed News, an accusation she also outlined in a letter her lawyer sent to Yale in February 2011. Another time, she said Shapiro told her that he didn't see her as a scientist but that was okay "because you're just going to get prettier over the next few years." The behavior kept up, she said, as Shapiro talked about his sex life, and on more than one occasion suggested they have sex. One of Tehila's family members told BuzzFeed News that Tehila repeatedly complained that Shapiro "was behaving improperly towards her."
"I agree that I was out of line in lab today, and I'm sorry. I hope you will forgive my behavior and rest assured I meant no disrespect. I will speak in a more professional manner around everyone from now on."

Tehila said she told Shapiro both verbally and in an email to tone it down. In one April 27, 2009, response, Shapiro wrote back to Tehila after she had complained about an incident in his lab, which had made her feel especially uncomfortable because she was the only woman there at the time. He wrote: "I agree that I was out of line in lab today, and I'm sorry. I hope you will forgive my behavior and rest assured I meant no disrespect. I will speak in a more professional manner around everyone from now on."
But his behavior didn't change, even after she graduated, Tehila said. On Sept. 15, 2010, Shapiro invited her out for drinks after a faculty dinner. After arriving at the restaurant, she said, she realized nobody else was coming.
"That night, he tried to kiss me and I pulled away," Tehila told BuzzFeed News. Separately, she told a lawyer and a family member that the attempted kiss came as Shapiro, who'd offered Tehila a ride home, walked her to his car and put his arms around her waist. After she pushed him away, Tehila said Shapiro tried to pull her into a dark alley between two buildings, according to a letter Tehila's attorney wrote to Yale and copied to Shapiro, alerting them to a possible lawsuit in 2011. Despite the harassment, Tehila, who was saving money to move to New York City, felt she couldn't quit her job. "I figured I should stick out this job because it was paying the bills and I figured it was a means to an end," she said.
Two weeks later, on Oct. 1, 2010, the lab went out for drinks to celebrate a couple of birthdays. Shapiro offered Tehila a ride home, which she accepted, she said. Shapiro walked her to his car parked on the street, opened the door for her, and then suddenly reached up her skirt and touched her, she said. Tehila "tried to push him away and demanded that he stop, but he wouldn't take his hands off of her and continued to touch her upper thighs and genital area in a sexual manner," the attorney's letter said. "The assault continued for approximately one minute before he finally stopped."
"I just froze," she recalled to BuzzFeed News. "I could barely say anything." But Tehila said she remembered telling Shapiro to "back off."
In the following weeks, Tehila said Shapiro alternated between apologies and offensive remarks, including defending a fraternity that had been accused of chants encouraging rape. On the advice of a faculty member she trusted, Tehila went directly to Yale College's dean at the time, Mary Miller, and asked to discuss the situation, stating that the person whose lab she'd been working in had twice made sexual advances toward her. "I really don't want to see this happen to another Yale woman," Tehila wrote in a Nov. 1 email to Miller. Tehila said she also contacted Marichal Gentry, the dean of student affairs, and met with him and a member of Yale's Sexual Harassment Grievance Board, to discuss Shapiro. Gentry in turn referred her to Valarie Stanley, the head of Yale's equal opportunity office. Miller, upon learning that Tehila was in touch with the dean of student affairs, told her in an email: "My sense is this will be thoroughly carried out."
"I really don't want to see this happen to another Yale woman."
On Jan. 12, 2011, after Tehila emailed Stanley asking for an update on the investigation, Stanley replied: "I just got official word yesterday afternoon that appropriate action has been taken." Stanley didn't elaborate.
Tehila had left town by then, "but I was tortured by the way this was handled and by everything that had happened," she said. "I needed more information than 'the university has taken appropriate action.'" She felt as if she was "expected to live with that one statement and, I presume, keep silent thereafter."
Tehila met with a psychologist on a weekly basis from February through June that year. Her psychologist wrote that Tehila exhibited symptoms typical of someone who'd been through trauma, and "[She] spent a fair amount of time reiterating how she felt angry and frustrated that Yale University had not done anything substantial about her complaint."
She also hired a lawyer, Brent Pelton. Tehila told him about her harassment allegations and noted that a paper she'd helped Shapiro research for months had been submitted for publication to various journals without her listed as a co-author. "I don't think he can justify this on any scientific basis," Tehila wrote in an email to Pelton. "Is this retaliation?" Tehila hoped that she could pressure Yale into taking serious action against Shapiro, like firing him.
"I was tortured by the way this was handled ... I needed more information than 'the university has taken appropriate action.'"
Documents obtained by BuzzFeed News show Tehila, Yale, and Shapiro entered into discussions in 2011 about how to resolve the situation without filing a lawsuit. Yale arranged to have Tehila meet with a human resources officer who would hear more about her allegations against Shapiro. Pelton had pressured Shapiro through Yale's attorneys to restore Tehila's name to the research paper, an omission Shapiro said was not intentional. "Please forward my apologies for the mistake," Shapiro wrote in an email in April 2011. Eventually, Tehila decided she'd had enough and did not want to pursue a civil or criminal case against her former mentor. In November 2011, Tehila told her lawyers she didn't want to take further action.
Within three months, Shapiro had applied to become research director in the radiology department at Michigan State University.
"The search committee never learned about any concerns about any misconduct allegations against Shapiro from his time at Yale," James E. Siebert, chair of the MSU search committee that recommended hiring Shapiro, told BuzzFeed News. Siebert said he was not the one calling Shapiro's references. But Shapiro, Siebert said, "was well regarded and respected as far as I knew." Jill Slade, a Michigan State radiology professor and search committee member, agreed.
Whether Shapiro was accused of any harassment or misconduct at Yale "was not something the search committee ever discussed," Slade told BuzzFeed News.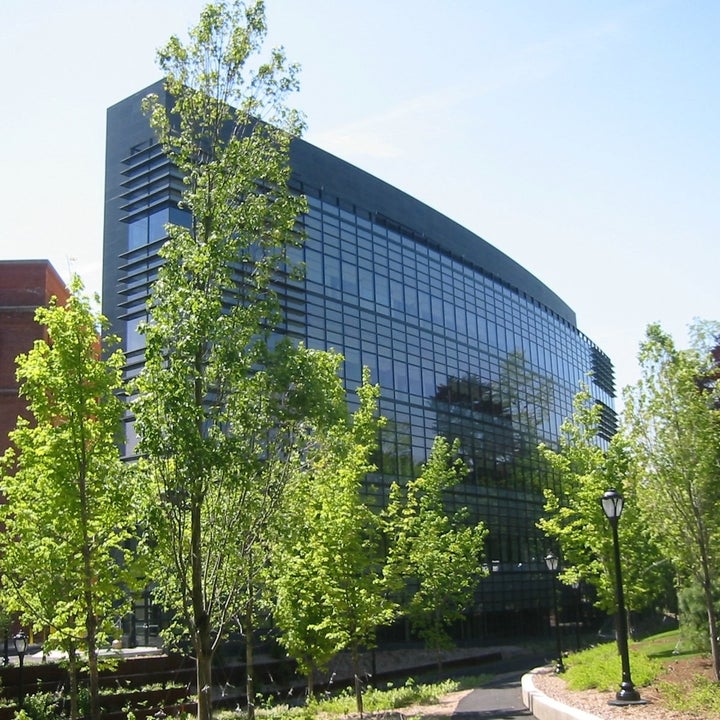 The biomedical engineering building at Yale University.
Ragesoss / Wikimedia Commons / Public Domain / Via commons.wikimedia.org
Read More